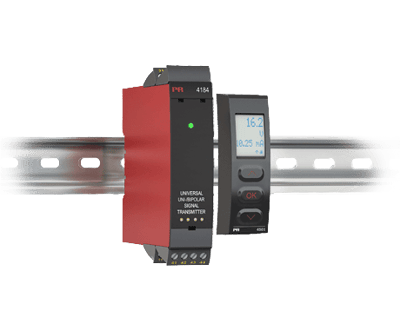 Images are representations only.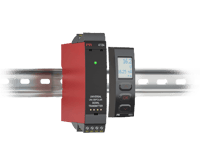 Measures DC inputs up to ±300 V / ±100 mA with spans as low as 25 mV / 0.5 mA
Passive/active current output and buffered voltage output
Fast < 20 ms response time and excellent 0.05% accuracy
Universally powered by 21.6…253 VAC / 19.2...300 VDC
Features
The latest analog and digital techniques are used to obtain maximum accuracy and immunity to interference.
Possibility of output safety readback by selecting S4...20 mA output.
The current output can drive up to 1000 Ohms, with an adjustable response time of 0.0…60.0 seconds.
Exceptional mA output load stability of < 0.001% of span / 100 Ohm.
Meets the NAMUR NE21 recommendations, ensuring high accuracy in harsh EMC environments.
Meets the NAMUR NE43 recommendations, allowing the control system to easily detect a sensor error.
Tested to a high 2.3 kVAC, 3-port galvanic isolation level.
Excellent signal to noise ratio of > 60 dB.
Specifications
Approvals & Certifications
EAC
SIL
cULus, UL 508 E248256
LVD 2014/35/EU
EMC 2014/30/EU
RoHS 2011/65/EU
EAC TR-CU 020/2011
Supply Voltage
21.6-253 VAC, 50-60 Hz
19.2-300 VDC
Accuracy
Better Than 0.05% of Selected Range
Resistance
Calibration: 5 kΩ
Min. potentiometer: 200 Ω
Output Signal
0 to 23 mA (unipolar)
-23 to 23 mA (bipolar)
Custom Config. Output Rrange: ±20 mA
Min. Signal Range: 4 mA
Fast < 20 ms response time for measuring signals produced by torque, position, current & acceleration sensors.
User configurable bipolar or unipolar I/O means the 4184 is suitable for nearly any DC voltage or current conversion.
Freely programmable between ±300 VDC and ±100 mA.
The excitation source allows measurement of a 2-wire or 3-wire transmitter, or a potentiometer.
Converts narrow bipolar inputs to wide bipolar or unipolar outputs, e.g., ±1 volt input = ±10 volt or 4...20 mA output.
Configurable input limits control the output value for increased safety.
±20 VDC buffered voltage output for controlling devices like the PVG 32 valve (6...18 VDC).
Designed according to strict safety requirements and is therefore suitable for application in SIL 2 installations.
Suitable for the use in systems up to Performance Level "d" according to ISO-13849.