Images are representations only.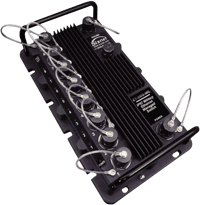 These high-performance switches offer an ideal Commercial Off-The-Shelf (COTS) military solution for battlefield communications, combat vehicles and avionics shipboard as well as other industrial applications that require rugged reliability in extreme environments.

MILITARY STRENGTH

With military equipment subject to harsh climates, varying temperatures, shock and vibration, defense requirements are mission critical. Equipment has to be built to withstand extreme stresses without sacrificing performance. Sixnet's IP67 Ethernet switches are designed to reliably provide high-performance connectivity for the harshest defense applications.

Military rated to support extreme defense conditions, our products link in-vehicle communication systems to support a host of military applications on the land, in the air and on sea. These include land vehicles, ground support facilities, missile delivery systems, bombers, aircraft, UAVs and naval vessels. 

Ultra Rugged & Compact

Meets extreme military standards
Provides proven reliability under field conditions


Fully certified MIL-STD performance
40 to 75° C operating temperature
Tough corrosion proof aluminum case
Conductive cooling
No moving parts
Over 1,000,000 (MTBF) of trouble-free service
Industrial COTS Solution

Reduces time and cost for development and maintenance
Simplifies procurement 


Pre-tested for vibration and harsh conditions 
Ready to ship
Flexible Deployment Options

Reduces crew workload
Improves task performance


Direct-mounting
No need for additional enclosures and wiring
IP67 (NEMA 6) water-tight case enables mounting into a vehicle or an exposed wall in harsh applications
Low-profile chassis fits into tight spaces
Real-Time Ethernet Performance

Helps optimize vehicle networks
Protects mission-critical communications


Fast wire-speed switching
Auto-speed/duplex, auto-crossover and auto-polarity
RSTP, SNMP, QoS/CoS, IGNR, VLAN and security options
Features
8 Gigabit Ethernet ports for 10/100/1000 Mbps links
IP67/NEMA 6 rated package protects against dust, water, oil, and debris
High-performance switch rated for MIL-STD-810F, MIL-STD-461F and MIL-STD-1275D
Military-rated MIL-DTL-38999 Series III connectors protect against vibration, shock and water
Tough corrosion-proof aluminum enclosure
Truly industrial -40 to +75° C operating range with conductive cooling
Specifications
Ethernet Performance
8 Gigabit Ethernet ports for 10/100/1000 Mbps links
Store and forward wire-speed non-blocking switching
Managed or unmanaged models available
All IEEE802.3 Ethernet protocols supported
Auto-negotiation for Ethernet speed and duplex
Auto-crossover for Ethernet MDI/MDIX wiring
Auto-polarity for Ethernet TD and RD polarity
Full or half-duplex operation (auto or configurable)
8192 MAC addresses supported
32 Gbps memory bandwidth
Ethernet isolation 1500 VRMS 1 minute
Connector: MIL-DTL-38999 series III receptacle with shell/insert style 9-9, 8 socket contacts & N keying
Ethernet Compliance
IEEE 802.3 (Original Ethernet 10Mbps)
IEEE 802.3z (Gigabit Ethernet 1000Mbps)
IEEE 802.3x (Full-duplex with flow control)
IEEE 802.3u (Fast Ethernet 100Mbps)
Power Input
Connector: MIL-STD-38999 Series III receptacle with shell size A, style 98, 3 pin contacts and A keying
Input voltage range: 18-30 VDC (continuous)
• Input power: 17 W (max. under full load)
Reverse polarity protection
Exceeds MIL-STD-1275 for power protection
Surge protection: 100 volts for 1 second
Transient protection: 15,000 watts peak
Spike protection: 5,000 watts (10x for 10 uS) or 250 volts (50x for 100 uS)
Environmental
Vent plug for high-altitude operation
Vibration, shock and freefall per MIL-STD-810F and IEC60068-2-6, -27 and -32
Humidity (non-condensing) 5 to 95% RH
Storage temperature: -40 to +85° C
Operating temperature: -40 to +75° C (cold startup at -40° C)
Physical
Dimensions (L x W x H): 11 x 6 x 2.85" (279 x 152 x 72 mm)
Weight (including caps): 4.25 lbs (1.9 Kg)
IP67 dust, oil and water-tight package protection
Standards & Compliance
UL508/CSA C22.2/14 for electrical safety
UL1604/CSA C22.2/213 for hazardous locations
MIL-STD-461F for EMC performance
MIL-STD-810F for environmental performance
MIL-STD-1275D for power protection
MTBF per MIL-HNDBK-217F2
8EG: >1MM hours GB or 176,157 GM @ 40° C
8MG: >1MM hours GB or 142,787 GM @ 40° C
Managed Models
USB/RS232 console port via MIL-STD-38999 series III connector with shell size A, style 35, 6 socket contacts & A keying
Real-Time RingTM or Rapid Spanning Tree (RSTP) for fast redundant ring or mesh networks
Priority queuing for real-time performance
SNMP v1 and v2 for network management
SNMP v3 for authentication and encryption
SNMP notifications (traps) for report on event
IGMP v1 & v2 for IP multicast filtering
VLAN (port & tag based) for traffic segregation
Message filtering to stop broadcast/multicast storms
RMON and port mirroring for diagnostics
Configuration via secure (HTTPS) web interface, Telnet/SSH (network), terminal (RS232) or SNMP (v1, v2, v3)
Recommended Interface Plugs
Ethernet Plug: Aero AE90-365-BN9-9PN or Amphenol TV06RW9-9PN (without center pin)
Power Plug: D38999/26WA98SA
USB/RS232 Plug: D38999/26WA35PA
Industrial Outdoors
Marine and Maritime
Transportation
Military In-Vehicle (per COTS)
Aerospace