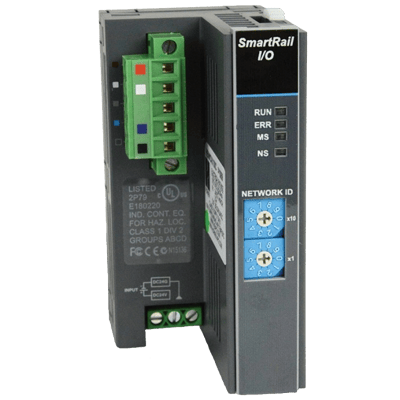 Images are representations only.
SmartRail I/O CANopen Base
Brand:
Horner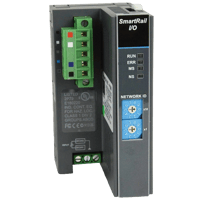 SmartRail I/O is a real-time, modular I/O system – expanding the application of the OCS family of all-in-one controllers. 

The SmartRail I/O CANopen Base (COS100) utilizes CANopen communications for the I/O connection with the OCS. 

The highly efficient, and highly reliable nature of CANopen allows a significant amount of I/O to be added while maintaining fast I/O updates. 

Any modern OCS Controller with a CAN port can utilize COS100 Base units. 

Each COS100 base can support up to 8 SmartRail I/O modules – addressed with up to 256 digital I/O and 32 Analog I/O per base. 

The maximum number of bases supported by an OCS controller is currently 16. 

Modules can be added either before or after the CNX100 base has been installed on the DIN-rail. 

The COS100 network wiring is typically a daisy-chain architecture, although trunkline-dropline architectures are also supported. 

Entire bases of I/O may be hot-swapped to/from the CANopen network, but individual I/O modules may not be hot-swapped on the base. 

SmartRail I/O is not complex to configure – it utilizes Cscape (9.4 or later) in an easy, straightforward process.
Specifications
Approvals & Certifications
Connectors
5-Pin Removable Terminal Block
Humidity
Relative Humidity: 5 to 95% Non-Condensing
Length
Wire Stripping Length: 0.28" (7 mm)
Mounting
DIN Rail
Terminal Typical: M3 Screw Typical, Removable
Operating Temperature
-5° to 50° C (23° to 122° F)
Power
Output Power: 1,500 mA at 5 Vdc
Primary Power Range: 11-28 Vdc
Power Requirement
Steady State: 400 mA at 24 Vdc, Maximum
Power Supply
Power Supplied for I/O Modules: 1,500 mA at 5 Vdc, Maximum
Storage Temperature
-40° to 75° C (-40° to 167° F)
Torque
Terminal Torque Rating: 0.6 Nm (5.2 In/Lbs)
Version / Leadwires
Accepted Wire Size: 14 to 26 AWG (Copper)