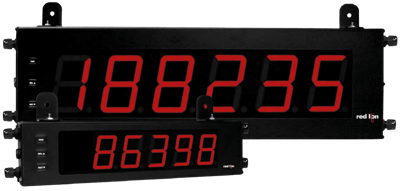 Images are representations only.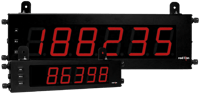 The Large Display Timer and Cycle Counter is a versatile display that functions as an Elapsed Timer or Preset Timer, with full-featured user programmability. 

The meter includes a built-in Cycle Counter, relay output and serial communications capability. 

The 6 digit displays are available in either 2.25" or 4" high red LED digits with adjustable display intensity. 

The 2.25" high models are readable up to 130 feet. 

The 4" high models are readable up to 180 feet. 

Both versions are constructed of a NEMA 4X/IP65 enclosure in light weight aluminum. 

The Timer has two signal inputs and eight input operating modes. These modes provide level active or edge triggered start/stop operation. The Timer features 18 selectable timer ranges to cover a wide variety of timing applications. 

The built-in Cycle Counter can be linked to timer operation to count timing cycles, or function as a totally independent counter, accepting count speeds up to 500 Hz. 

The display can be toggled either manually or automatically between the Timer and Counter values.
Features
2.25" or 4" high red led digits
6-Digit bi-directional timing capability
5-Digit cycle counting capability
Selectable timer ranges and operating modes
Elapsed timer and preset timer functionality
Serial communication (RS232 or RS485)
Programmable user input
Universally powered
5 Amp Form C relay output
Aluminum NEMA 4X case construction
Specifications
Approvals & Certifications
Communication
Baud Rate: 300 to 38,400 bit/sec
RS-232
RS-485
Diameter
Cable: 0.18" to 0.312" (4.6 to 7.9 mm)
Humidity
0 to 85% Relative Humidity, Non-Condensing
Input
1 V, Maximum
1.25 V, Maximum
2.4 V, Minimum
2.75 V, Minimum
28 Vdc
Length
Display: 2.25" (57.15 mm)
Display: 4" (101.6 mm)
Wire Strip: 0.4" (10 mm)
Operating Temperature
0° to 65° C (32° to 150­° F)
Output
1/8 hp at 120 Vac
5 A at 120/240 Vac
5 A at 28 Vdc
Power Requirement
100 mA at 24 Vdc
11 W
21.6-250 Vdc
26 VA
50 mA at 24 Vdc
50-250 Vac, 50/60 Hz
Response Time
10 milliseconds
50 milliseconds
Storage Temperature
-40° to 70° C (-40° to 158° F)
Vibration
2 G for IEC 68-2-6
5 to 150 Hz for IEC 68-2-6