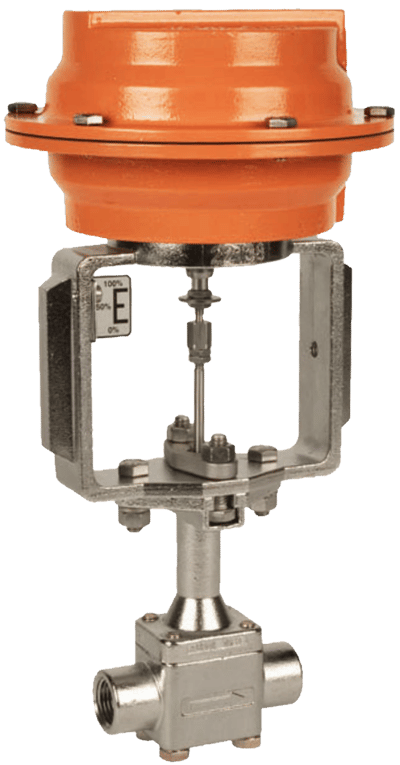 Images are representations only.
Mark 708 Series Low Flow Pneumatic Control Valve
Brand:
LowFlow Valve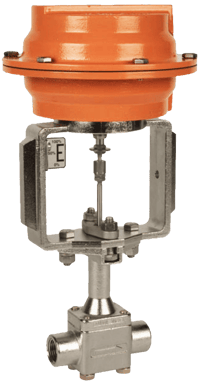 The Mark 708 was developed by Jordan Valve to provide the most accurate control available for fractional flow services: whether for pilot plant installation, test stands, R & D facilities, or for specialized processes such as dosing, injection and venting applications.

With Cv's ranging from 0.00001 to 4.0 available in 1/4" through 1" lines sizes (0,000009 to 3, 4 Kv in sizes DN8 through DN20), the Mark 708 offers design features that will provide enhanced performance to insure precision control on your most critical micro-flow flow applications.

The Mark 708 Series is a complete line of pneumatic and electric control valves developed specifically for the unique properties and conditions encountered in fractional flow services.

The 708 Series comes standard with the quick change option - for applications requiring frequent trim changes without disturbing the actuator setting.
Features
Rolling diaphragm - the rolling diaphragm design ensures that the effective diaphragm area remains relatively constant, regardless of valve stem position. This increases accuracy of the actuator when positioning the valve by ensuring a linear response to input signal changes.
Spring-loaded TFE/Chevron packing - the spring-loaded packing maintains a proper compression, while minimizing excessive friction. This alleviates the need for most field adjusting. The TFE packing is suitable for temperatures to 450ºF (232ºC), while braided or Graphite/Grafoil may be used for higher temperature requirements.
Bolted body/bonnet connection - the bolting provides solid construction and secure connection. This bolting adds ease to maintenance, as bonnet/actuatorassembly may be removed with a valve body in-line.
Guided trim - extended orifice and plug guiding are standard and offers improved shutoff and accuracy equivalent to heavy duty trim option of competitors (not applicable to cv's below 0.05).
Quick change trim - the secondary stem connection eliminates stroke adjustment when changing trim facilitating faster, easier trim changes (not applicable to cv's below 0.05).
Specifications
Sizes
1/4" (DN8)
1" (DN25)
3/4" (DN20)
1/2" (DN15)
End Connections
Others upon request (contact factory)
Welded Flanges (ANSI, DIN, JIS)
Integral Tube Ends (max Cv or 0.2 on 1/4" TN option)
Socket Weld
Threaded - NPT, BSPT, BSPP
Actuator
1" (DN25) - standard: 35M
3/4" (DN20) - standard: 14M; optional 35M (35 in^2)
1/2" (DN15) - standard: 14M
1/4" (DN8) - standard: 14M (14 in^2) multi-spring
Diaphragm Material
14M - rolling (Nylon/Nitrile)
Optional 35M Actuator: Buna-N fabric reinforced
Body / Bonnet Materials
Other materials upon request
Titanium
Monel
Alloy 20
Hastelloy B
Hastelloy C
Stainless Steel
Carbon Steel
Trim Materials
Cv's below 0.05 (0,04 Kv): Nitronic 60 stem/plug & seat
Cv's 0.05 (0,04 Kv) and above: 17-4 stem/plug, 316SS seat
Optional Trim Materials
316SS Stem plug, PEEK seat
316Ss Stem/plug & seat
316SS Stem, Stellite plug and Stellite seat (hard seat only)
316SS Stem, 17-4 plug. 416SS seat
Actuator Materials
Aluminum - 14M
Steel - 35M
Stem Packing
Standard: spring-loaded TFE/Chevron (to 450°F/232°C)
Optional: braided or Graphite/Grafoil (with positioners on 14M)
Body / Bonnet Gasket
RPTFE or Grafoil (matches packing material unless specified)
Service
Steam
Air
Gas
Oil
Water
Chemicals
Shutoff
Standard - Cv's 0.05 and greater: ANSI Class IV; Cv's 0.02 and lower: ANSI Class VI
Optional - Cv's 0.05 and greater: ANSI Class VI (with PEEK seats)
Ranges
3-5 or 6-30 psi (0,21-1,0 or 0,4-2,1 bar) split ranges are available with optional positioners
Action
Direct (air signal closes valve)
Reverse (air signal opens valve)
Flow Characteristic
linear (all Cv's), equal percentage (Cv >/= 0.05/0,43 Kv only); or quick opening (Cv >/= 0.05/0,43 Kv only)