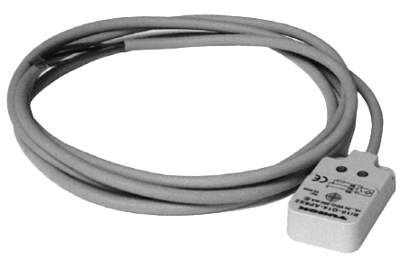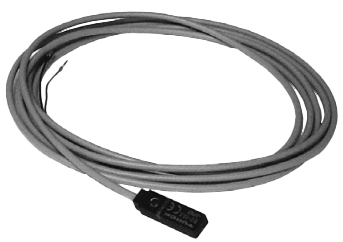 Images are representations only.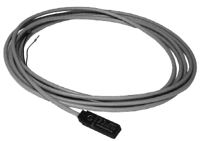 Inductive Proximity Sensors detect the presence of metal objects that come within range of their oscillating field and provide target detection to "zero speed". 

Internally, an oscillator creates a high frequency electromagnetic field (RF) that is radiated from the coil and out from the sensor face. 

When a metal object enters this field, eddy currents are induced into the object. 

As the metal moves closer to the sensor, these eddy currents increase and result in an absorption of energy from the coil that dampens the oscillator amplitude until it finally stops.
Features
Ideal for limited space applications
Sense ferrous and non-ferrous metal objects to "zero speed"
3-wire NPN true open collector outputs
2 sizes and sensing distances for application versatility
LED target indicator
Specifications
Approvals & Certifications
Current
Trigger Current for Overload Protection: 170 mA - PSAFP100
Trigger Current for Overload Protection: 220 mA - PSAFP200
Environmental Protection
IP10
IP54
IP66
IP67
NEMA 1
NEMA 13
NEMA 3
NEMA 4
NEMA 6
Frequency
2 kHz - PSAFP100
500 Hz - PSAFP200
Materials of Construction
Mounting Bracket: 304 Stainless Steel, 1.4301 - MB800000
Mounting Spacer: Copper (Cu2n) - MB700000
Mounting Spacer: Metal - MB700000
Operating Temperature
-25° to 70° C (-13° to 158° F) - PSAFP200
-25° to 85° C (-13° to 185° F) - PSAFP100
Output
1.8 V at 150 mA - Maximum
Power Supply
10-30 Vdc at 15 mA - Maximum