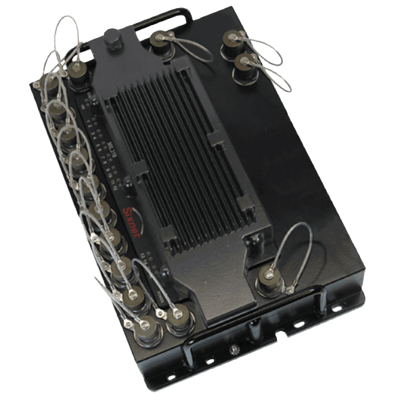 Images are representations only.
Red Lion's Sixnet MIL316 has 12 Gigabit (10/100/1000) plus 4 additional Gigabit (1,000 Mbps, copper or fiber) ports. 

This Layer 3 managed industrial Ethernet switch features military-style D38999 connectors and link speed of 10Mb/s to 1Gb/s. 

With an ultra-rugged case, protected circuitry and advanced software, this switch offers an ideal Commercial Off-The-Shelf (COTS) military solution for battlefield communications, combat vehicles and avionics shipboard. 

It can also be used with industrial applications that require hardened switches.
Specifications
Applications
Aerospace
Industrial Outdoors
Marine & Maritime
Military In-Vehicle
Transportation
Approvals & Certifications
MIL-STD-810 G, 108E, 461F (EMI, EMC)
Approvals & Certifications
EMC
EMI
IEEE 802.1D, 802.1w (RSTP), 802.1s (MSTP), 802.1p, 802.3-2005, 802.1X
RoHS
Circuit Protection
Reverse Polarity Protection
Surge Protection: 100 Volts for 1 second
Communication
RS-232 Plug: D38999 / 26xA35PA
Enclosure, Body Material
Tough Corrosion Proof Aluminum Case
Humidity
5 to 95% Relative Humidity, Non-Condensing
Input
20-36 Vdc (Continuous)
45 W (Estimated, Maximum
Operating Temperature
-40° to 75° C (-40° to 167° F)
Power
250 V (50x for 100 μS)
Spike Protection: 5,000 W (10 x for 10 μS)
Transient Protection: 15,000 W
Storage Temperature
-40° to 85° C (-40° to 185° F)
Industrial outdoors 
Marine and maritime 
Transportation 
Military in-vehicle (per COTS) 
Aerospace