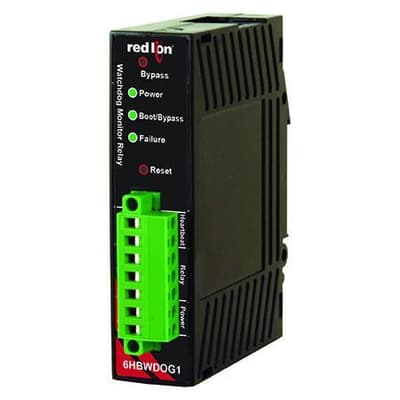 Images are representations only.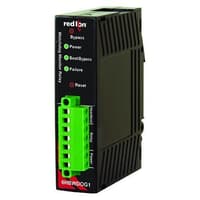 The Red Lion heartbeat relay module is used as a failsafe system to monitor and shut down a PLC or RTU based automation system in the event of a malfunction in the processor controlling the system. 

A secondary safety check is the most economical way to achieve system safety shutdown. This is accomplished is by powering the control system through the internal 10A rated relay built into the watchdog module. 

Loss of processor control is detected by monitoring a discrete output signal designated as the "Heartbeat" which toggles on and off under processor control. 

If the processor malfunctions, the heartbeat will cease to toggle and the Heartbeat Watchdog Module will sense this failure and shut down the system by opening the relay powering the system. 

The Heartbeat Watchdog Module is designed for extreme reliability, using no microprocessor or other programmable logic elements in its design. 

Using hard wired logic elements in place of CPU and memory based circuitry removes the possibility of program bugs or memory failure disrupting the operation of the module.
Specifications
Approvals & Certifications
EN 55022, 61000-4-2,3,4,5,6,8
Approvals & Certifications
ABS
ATEX (Zone 2)
CE
CSA C22.2/213, C22.2/142
EMC Immunity
EMI Emissions FCC Part 15, ICES-003, Class A
IEC 61010-1, EN 55022 61000-6-4, 60079-0,15
Marine & Maritime: DNV 2.4
Marine & Maritime: LLOYD
UL 508
Electrical Connectors
30 to 12 AWG
M3 Screw Terminal
Humidity
5 to 95% Relative Humidity, Non-Condensing
Input
10 mA at 24 Vdc
10-30 Vdc
Materials of Construction
Packaging: Impact Resistant Lexan Polycarbonate
Operating Temperature
-40° to 80° C (-40° to 176° F)
Resistance
Input Resistance: 2.6 KiloOhms at 24 Vdc
Storage Temperature
-40° to 85° C (-40° to 185° F)
Voltage
Guaranteed OFF: 1 Vdc
Guaranteed ON: 9 Vdc