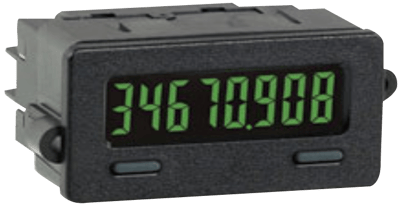 Images are representations only.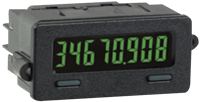 The CUB7 series is an 8-digit lithium battery powered miniature counter or timer with large 0.35" (8.9 mm) high digits. It has an LCD read-out available in Positive Imagine Reflective, Negative Image Transmissive with yellow/green or red backlighting. 

The backlight versions require an external 6-26 VDC power supply. The CUB7 series is housed in a lightweight, high impact plastic case with a clear viewing window. 

The sealed front panel with silicon rubber keypad meets NEMA 4X/IP65 specification for wash-down and/or dusty environments, when properly installed with supplied panel gasket and mounting clip.

Both counter and timer CUB7 models are available with a low voltage input (28 VDC max) or an isolated high voltage input (50-250 VDC/VAC). 

The low voltage input has DIP switch selections for SINKING or SOURCING along with a HIGH/LOW FREQUENCY selection (low frequency for contact inputs). Both units have front panel keypads that can be used to reset the display. 

The keypad can be enabled/disabled via a single DIP switch. The standard unit uses 22 gauge wires for external connections, an optional plug-in terminal block is available.

SAFETY SUMMARY

All safety related regulations, local codes and instructions that appear in the literature or on equipment must be observed to ensure personal safety and to prevent damage to either the instrument or equipment connected to it. If equipment is used in a manner not specified by the manufacturer, the protection provided by the equipment may be impaired.