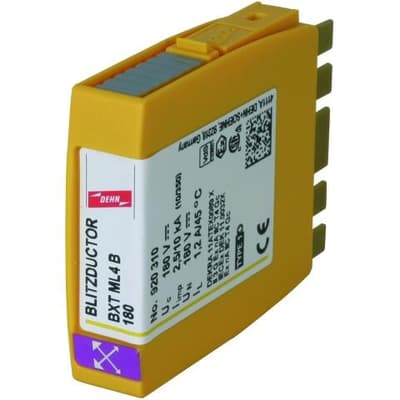 Images are representations only.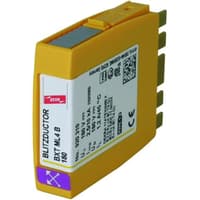 Space-saving combined lightning current and surge arrester module with LifeCheck feature for protecting two pairs of unearthed balanced interfaces. 

If LifeCheck detects thermal or electrical overload, the arrester has to be replaced. 

This status is indicated contactless by the DEHNrecord LC / SCM / MCM reader.
Features
LifeCheck SPD monitoring function
Optimal protection of two pairs
For installation in conformity with the lightning protection zone concept at the boundaries from 0A-2 and higher
Specifications
Approvals & Certifications
ATEX DEKRA 11-ATEX-0089 X: II 3 G Ex NA IIC T4 Gc
CE
CSA & USA Hazloc (2516389: Class I Division 2, GP A, B, C, D T4, Class I, Zone 2, AEx NA IIC T4)
GOST
IECEx DEK 11.0032X: Ex NA IIC T4 Gc
UL
VDS
Approvals & Certifications
IEC 61643-21, EN 61643-21, UL 497B
Up to SIL3
Capacitance
Capacitance Line-Line: ≤ 240 PF
Capacitance Line-PG: ≤ 16 PF
Current
C2 Total Nominal Discharge Current (8/20 µs): 20 KA
D1 Lightning Impulse Current (10/350 µs) Per Line: 2.5 KA
D1 Total Lightning Impulse Current (10/350 µs), C2 Nominal Discharge Current (8/20 µs) Per Line: 10 KA
Nominal Current at 45° C (113° F): 0.75 A
Frequency
Cut-Off Frequency Line-Line: 25 MHz
Operating Temperature
-40° to 80° C (-40° to 176° F)
Resistance
Series Resistance Per Line: 1.8 ohms
Voltage
Nominal Voltage: 180 V
Voltage Protection Level Line-Line at 1 kV/µs C3 (Uₚ): ≤ 250 V
Voltage Protection Level Line-Line for Iᵢₘₚ D1 (Uₚ): ≤ 270 V
Voltage Protection Level Line-PG for Iᵢₘₚ D1 (Uₚ) & at 1 kV/µs C3 (Uₚ): ≤ 550 V