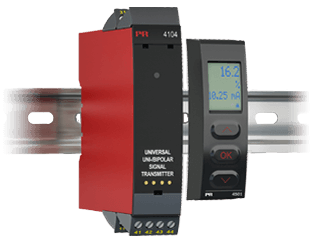 Images are representations only.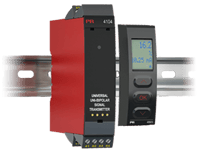 Measures and outputs uni-/bipolar voltage and current signals
Works with both passive and active inputs and outputs
Uses the PR 45xx display for programming and process monitoring
Fast < 20 ms response time and excellent < 0.05% accuracy
Universally powered by 21.6…253 VAC / 19.2...300 VDC
Features
The latest analog and digital techniques are used to obtain maximum accuracy and immunity to interference.
The current output can drive up to 800 Ohms, with an adjustable response time of 0.0…60.0 seconds.
Exceptional mA output load stability of < 0.001% of span/100 Ohm.
Meets the NAMUR NE21 recommendations, ensuring high accuracy in harsh EMC environments.
Meets the NAMUR NE43 recommendations, allowing the control system to easily detect a sensor error.
Each unit is tested to a high 2.3 kVAC, 3-port galvanic isolation level.
Excellent signal to noise ratio of > 60 dB.
Specifications
Approvals & Certifications
2014/30/EU
DNV Marine Standard F. Certificate No. 2.4
EAC TR CU 020/2011
FM 3025177
LVD 2014/35/EU
UL 508
Calibration
20° to 28° C (68° to 82° F)
Output
0 to 23 mA Signal Range (Unipolar)
Response Time
< 20 milliseconds (0 to 90%, 100 to 10%)
Supply Voltage
19.2-300 Vdc
21.6-253 Vac
50/60 Hz
Temperature Range
-20° to 60° C (-4° to 140° F)
Fast < 20 ms response time for measuring signals produced by torque, position, current & acceleration sensors.
User configurable bipolar or unipolar I/O means the 4104 is suitable for nearly any voltage or current conversion.
The excitation source enables measurement of two or three wire transmitters.
The active or passive I/O makes the 4104 perfect for power matching current loops.
Converts narrow bipolar inputs to wide bipolar or unipolar outputs, e.g., ±1 volt input = ±10 volt or 4...20 mA output.
Selectable direct or inverse I/O makes the 4104 suitable for proportional control applications.
The "V-curve" function outputs 100% – 0 – 100% when a 0 – 100% input signal is present.