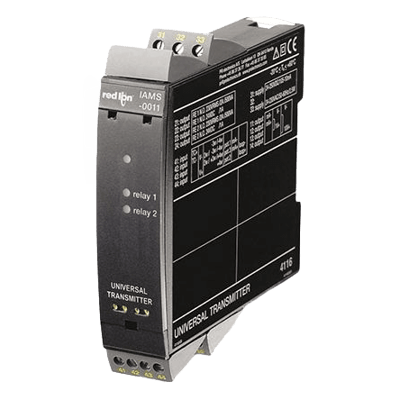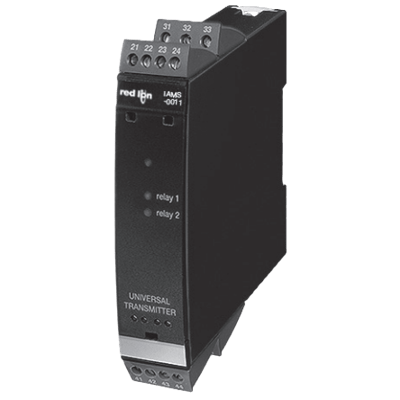 Images are representations only.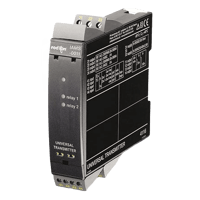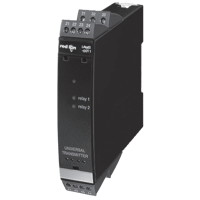 The IAMS are universal signal conditioners with unmatched capability and provide more than 100 combinations of I/O combination configurations. 

The IAMS provides complete isolation and conversion capabilities to satisfy any application. 

The universal input accepts process, DC current, DC voltage, thermocouples, RTDs, potentiometers and linear resistance signals allowing the module to be connected to most sensors. 

Setpoint models allow for dual setpoint control capability through dual form A relays. 

The Analog model provides a retransmitted Analog signal. 

A third model provides both Analog and dual setpoint control capabilities.
Features
Input for RTD, TC, Ohm, Potentiometer, mA and V
2-Wire supply >16 V
FM-approved for Installation in Div.2
Output for current, voltage and 2 Relays
Universal AC or DC supply
Specifications
Ambient Temperature Range
0° to 60° C (32° to 140° F)
Approvals & Certifications
Approvals & Certifications
ASTM E988-90
Class I, Division 2, Groups A, B, C, D Class I, Division 2, Group IIC Zone 2, 3600, 3611, 3810 & ISA 82.02.01
EMC 2004/108/EC
GOST 3044-84
IEC60751, 60584-1
LVD 2006/95/EC
NAMUR NE 21
UL 508
Current
Fuse: 400 mA SB at 250 Vac
NAMUR NE 43 Upscale: 23 mA
Sensor Current, RTD: 0.2 mA
Sensor Error: 2 µA
Delay Time
ON & OFF Delay: 0 to 3,600 seconds
Frequency
Signal/Noise Ratio: 0 to 100 kHz (60 dB), Minimum
Humidity
< 95% Relative Humidity, Non-Condensing
Hysteresis
0.1 to 25% of Span or Display Range
Input Impedance
10 MegaOhms
70 ohms at 20° C
Isolation
Test/Operation: 2.3 kVac / 250 Vac
Output
≤ 28 mA
0-20 mA
0 to 20.5 mA
3.8-20.5 mA
Load: 20 mA at 16 Vdc
NAMUR NE 43 Downscale: 3.5 mA
Signal Range: 0-10 Vdc
Relay Output
2 A ac / 2 A dc
250 Vrms
500 VA
Resistance
Cable Resistance Per Meter, RTD: 50 ohms
Response Time
≤ 400 milliseconds
Temperature Input: ≤ 1 second
RTD Type
Ni100 at -60° to 250° C (-76° to 482° F)
Ni1000
Ni120
Ni50
Pt10
Pt100 at -200° to 850° C (-328° to 1,562° F)
Pt1000
Pt20
Pt200
Pt250
Pt300
Pt400
Pt50
Pt500
Sensor, Probe Type
B Thermocouple
E Thermocouple
J Thermocouple
K Thermocouple
Lr Thermocouple
L Thermocouple
N Thermocouple
R Thermocouple
S Thermocouple
T Thermocouple
U Thermocouple
W3 Thermocouple
W5 Thermocouple
Supply Voltage
0-20 mA at 25-16 Vdc
19.2-300 Vdc
21.6-253 Vac
Temperature Range
-20° to 60° C (-4° to 140° F)
Calibration: 20° to 28° C (68° to 82.4° F)