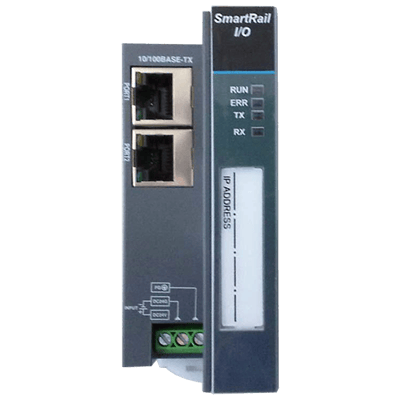 Images are representations only.
HE599ETX300 SmartRail I/O Ethernet Base
Brand:
Horner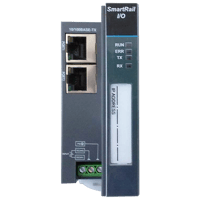 SmartRail I/O is a real-time, modular I/O system that supports a variety of Ethernet and Fieldbus Communication architectures. 

The SmartRail I/O Ethernet/IP Base (ETX300) utilizes Ethernet/IP communications, the popular Industrial Etherned protocol based on Common Industrial Protocol (CIP) distributed by the Open DeviceNet Vendor Association (ODVA). 

Unlike other SmartRail I/O Bases (such as the HE599CNX100) which utilize Horner Controllers, the ETX300 supports third party PLCs and Ethernet IP Scanners, such as those from Rockwell Automation. 

Each SmartRail I/O base can support up to 8 SmartRail I/O Modules, addressed with up to 256 digital and 64 Analog I/O per base. 

The number of ETX300 bases allowed on a single network is defined by Controller memory limitations. 

The ETX300 features a built-in unmanaged Ethernet switch for the convenience of wiring and system expansion. 

SmartRail I/O is not complex to configure – the ETX300 Ethernet/IP can be configured with a variety of manufacturer's software suites that Support Ethernet/IP communications.
Specifications
Approvals & Certifications
CE
UL Class I, Division 2, Groups A, B, C, D
Connectors
2 Ports (AutoMDIX)
RJ45 (8P8C)
Humidity
5 to 95% - Non-Condensing
Length
Wire Stripping Length: 0.28" (7 mm)
Mounting
DIN Rail
M3 Screw Typical, Fixed
Operating Temperature
-5° to 50° C (23° to 122° F)
Power
Primary Power Range: 19.2-28.8 Vdc
Power Requirement
Steady State: 550 mA at 24 Vdc
Power Supply
Power Supplied for I/O Modules: 1,500 mA at 5 Vdc, Maximum
Storage Temperature
-40° to 75° C (-40° to 167° F)
Version / Leadwires
Recommended Wire Size: 14 to 18 AWG (Copper)