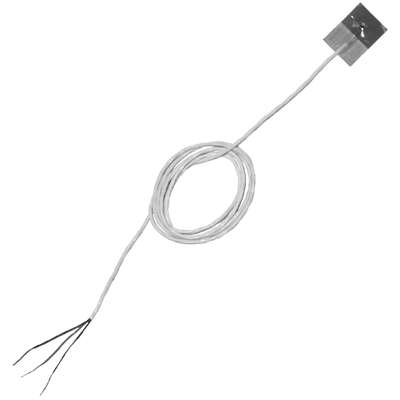 Images are representations only.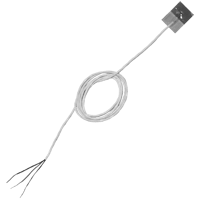 Model TMPRT "stick-on" Style RTD Temperature Sensor mounts on flat surfaces and provides Class B accuracy. 

Based on a bare 2 x 2 x 0.08 mm thin film platinum RTD, the unit is supplied with PFA insulated wire and can be easily applied using its self-adhesive backing. 

Applications for this versatile RTD sensor include monitoring chip, heat sink, and environmental temperatures in electronic devices; checking pipe or duct temperatures; monitoring motor and transformer core heat; testing insulation capabilities, as well as use in other applications in which surface and/or gradient temperatures need to be monitored or controlled.
Features
100 Ohms DIN class B (±0.12% at 0° C) accuracy standard
Easy installation silicone based, self backing rated to 260° C (500° F)
Sensor can be reapplied
Stripped 3-Wire leads (connectors sold separately)
10 feet lead length
Ideal for flat or curved surfaces
Specifications
Accuracy
± 0.12% at 0° C (32° F), DIN Class B
Electrical Connectors
26 AWG Stranded Nickel-Plated Copper, PFA-Insulated & Jacket Cable
Materials of Construction
Response Time
< 0.9 second (63% Response Time in Water Flowing at 3 feet Per second)
< 2 seconds on a Hot Plate
RTD Type
Typical 385 DIN Pt100 Thin Film
Temperature Range
-73° to 260° C (-100° to 500° F)