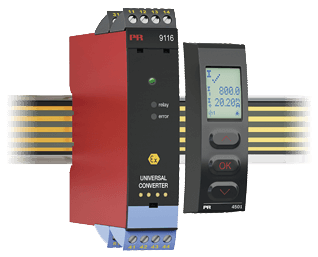 Images are representations only.
Input for RTD, TC, Ohm, potentiometer, mA and V
Supply for 2-wire transmitters
Active / passive mA output and relay output
Can be supplied separately or installed on power rail, PR type 9400
SIL 2-certified via Full Assessment
Features
Configuration and monitoring by way of detachable display front (PR 45xx); process calibration, signal and relay simulation.
Advanced relay configuration, e.g. setpoint, window, delay, sensor error indication and power monitoring.
Copying of the configuration from one device to others of the same type via PR 45xx.
Reduced Uo Ex data < 8.3 V for active input signals.
TC inputs with internal CJC or external CJC for higher accuracy.
Active / passive mA output via the same two terminals.
1 green and 1 red front LED indicate operation status and malfunction. 1 yellow LED indicates relay status.
2.6 kVAC galvanic isolation between input, output and supply.
Specifications
Approvals & Certifications
ATEX 2014/34/EU KEMA 10-ATEX-0053 X
CCOE P337349 / 4
DNV Marine Standard F. Certificate No. 2.4
EAC Ex TR-CU 012 / 2011 RU C-DK.GB08.V.00410
EAC TR CU 020/2011
EMC 2014/30/EU
FM 3038267-C
IECEx KM 10.0022X
INMETRO NCC 12.1309 X
LVD 2014/35/EU
SIL 2 Certified & Fully Assessed Accessory to IEC 61508
UL 61010-1
Calibration
20° to 28° C (68° to 82° F)
Humidity
< 95% Relative Humidity, Non-Condensing
Response Time
0.4 to 60 seconds mA/V Input Programmable
1 to 60 seconds Temperature Input Programmable (0 to 90%, 100 to 10%)
RTD Type
Ni100
Ni1000
Ni120
Ni50
Pt10
Pt100
Pt1000
Pt20
Pt200
Pt250
Pt300
Pt400
Pt50
Pt500
Storage Temperature
-20° to 85° C (-4° to 185° F)
Temperature Range
-20° to 60° C (-4° to 140° F)
Vibration
± 0.7 G, 13.2 to 100 Hz
± 1 mm, 2 to 13.2 Hz
9116B can be mounted in the safe area and in zone 2 / cl. 1 div. 2 and receive signals from zone 0, 1, 2 and zone 20, 21, 22 including M1 / Class I/II/III, Div. 1, Gr. A-G.
Conversion and scaling of temperature, voltage, potentiometer and linear resistance signals.
Power supply and signal isolator for 2-wire transmitters.
Monitoring of error events and cable breakage via the individual status relay and/or a collective electronic signal via the power rail.
The 9116 has been designed, developed and certified for use in SIL 2 applications according to the requirements of IEC 61508.
Suitable for the use in systems up to Performance Level "d" according to ISO-13849.