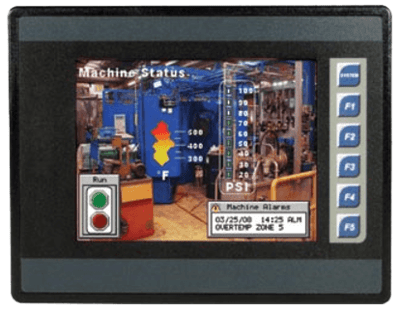 Images are representations only.
HE-XL103/1M3/1E3/104/1M4/1E4 XL6/6M/6E Controller
Brand:
Horner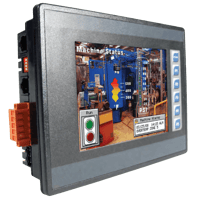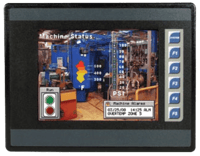 The XL6 All-in-One controller with a built-in 32,000 color TFT touch screen, I/O-Modules, networking options, removable MicroSDTM Card and USB ports. 

It's programmable by Horner APG's industry recognized CscapeTM software and can control a wide range of different processes and machines from small to medium applications. 

The controller comes in two versions:

XL6 - 5.7" Colour touch screen with built-in I/O
XL6e - 5.7" Colour touch screen with built-in I/O + built-in ethernet port with modbus TCP master/slave, HTTP web server & FTP capability
Specifications
Approvals & Certifications
Communication
2 Serial Ports: RS-232, RS-485
Ethernet (10/100 Mbps) - Model XL6e
USB A
USB-B
Current
Analog Input: 35 mA - Maximum
Digital Output - Maximum
Display
5.7" QVGA TFT [Display Life: 40,000 Hours Minimum (50% Brightness, 25° C), Memory: 2.75 MB]
Screen Dimension: 320 x 240
Electrical Protection
Digital DC Output Protection: Short Circuit
Humidity
5 to 95% Relative Humidity
Input
Analog Input: -0.5 to 12 V - Safe Range
Analog Input: 0-10 Vdc
Analog Input: 0-20 mA
Analog Input: 4-20 mA
Digital Input: 12-24 Vdc
Digital Input: 35 Vdc Absolute, Maximum
Digital Input: 3-8 Vdc Upper & Lower Threshold
Digital Input: Lower Threshold (Negative Logic) -2.1 mA
Digital Input: Lower Threshold (Positive Logic) 0.3 mA
Digital Input: Upper Threshold (Negative Logic) -1.6 mA
Digital Input: Upper Threshold (Positive Logic) 0.8 mA
Input Impedance
Analog: Current Mode 100 ohms (Clamped at -0.5 to 12 Vdc)
Analog: Voltage Mode 500 KiloOhms (Clamped at -0.5 to 12 Vdc)
Digital: 10 KiloOhms
Operating Temperature
-10° to 60° C (14° to 140° F)
Output
Digital Output: 0.5 A, Maximum
Digital Output: 28 Vdc, Maximum
Power
Primary Power Range: 10-30 Vdc
Power Requirement
Inrush: 2.5 A for 4 milliseconds at 24 Vdc - AC Switched
Inrush: 30 A for 1 millisecond at 24 Vdc - DC Switched
Steady State: 500 mA at 24 Vdc
Response Time
Digital: 1 millisecond (OFF to ON, ON to OFF)
Supply Voltage
Digital Output: 10-30 Vdc
Voltage Drop
Digital Output: 0.25 Vdc, Maximum