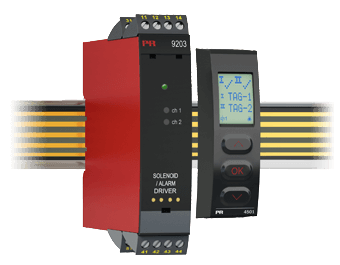 Images are representations only.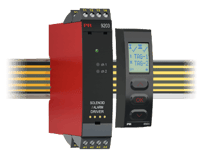 Universal driver for solenoids, acoustic alarms and LEDs
Extended self-diagnostics
1 or 2 channels
Can be supplied separately or installed on power rail, PR 9400
SIL 2-certified via Full Assessment
Features
Universal driver for the control of solenoids etc.
Two hardware versions make it possible to choose either Low (35 mA) or High (60 mA) current output.
Configuration and monitoring by way of detachable display front (PR 4500).
Selection of direct or inverted function for each channel via PR 45xx and the possibility of reducing the output current to suit the application.
Optional monitoring of the output current by way of PR 4500.
Optional redundant supply via power rail and/or separate supply.
1 green and 2 yellow/red front LEDs indicate operation status and malfunction.
2.6 kVAC galvanic isolation between input, output and supply.
Specifications
Approvals & Certifications
DNV Marine Standard F. Certificate No. 2.4
EMC 2014/30/EU
LVD 2014/35/EU
SIL 2 Certified & Fully Assessed Accessory to IEC 61508
UL 61010-1
Calibration
20° to 28° C (68° to 82° F)
Humidity
< 95% Relative Humidity, Non-Condensing
Temperature Range
-20° to 60° C (-4° to 140° F)
The 9203A can be mounted in the safe area and in zone 2 / Class 1, Division 2, Group A, B, C, D.
Control of ON / OFF solenoids, acoustic alarms and LEDs.
The 9203A is controlled by an NPN/PNP signal or a switch signal.
Monitoring of internal error events via the individual status relay and/or a collective electronic signal via the power rail.
The 9203A has been designed, developed and certified for use in SIL 2 applications according to the requirements of IEC 61508.
Suitable for the use in systems u