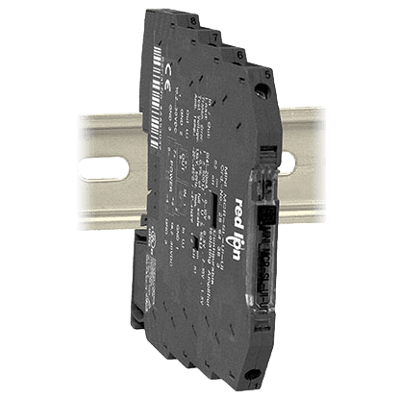 Images are representations only.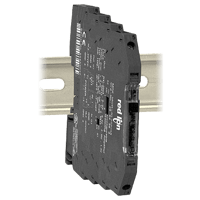 The IAMA can isolate and convert over 35 combinations of Analog signal ranges. 

The IAMA converts and transmits signals linearly proportional to the input. 

DIP switch range selection eliminates the need to order and stock different modules for each input and output signal range, and allows quick and convenient setup for over 35 standard signal conversions. 

In addition to the conversion capabilities, the IAMA modules feature optically isolated Input/ Output signal circuits and isolated Power to Input, Power to Output circuits. 

The modules' overall full scale accuracy typically exceed 0.04%. 

DIN rail mounting saves time and panel space. 

The units are equipped with universal mounting feet for attachment to standard top hat profile rail according to EN50022 - 35 x 7.5.
Features
3-Way isolation of Analog signals
Universal conversion module - inputs and outputs selected via DIP switch settings
Over 35 input and output Analog conversion combinations
Ultra slim design - only 0.244" (6.2 mm) wide
19-30 Vdc power
Specifications
Approvals & Certifications
EN 61000-4-2, 61000-4-3, 61000-4-4, 61000-4-5, 61000-4-6, 55011, 50022
Approvals & Certifications
CE
EMC Immunity to Interference According to EN 61000-6-2: EN 61000-4-2, 3, 4, 5, 6, Noise Emission According to EN 50081-2: EN 55011
IEC 1000
LVD (Low Voltage Directive (LVD)) 2006/95/EC
UL (C,US), Class I Division 2, Grade A, B, C, D T5
Input
0-10 V
0-20 mA
0-5 V
1-5 V
2 to 10 V
30 V, Maximum
4-20 mA
50 mA - Maximum
Length
Stripping Length: 0.47" (12 mm)
Load Resistance
Current: 500 ohms, Maximum
Voltage: 10 KiloOhms Minimum
Materials of Construction
Polybutylenterephthalate PBT, Black
Mounting
Standard DIN Top Hat (T) Profile Rail According to EN 50022 - 35 x 7.5
Operating Temperature
-20° to 65° C (-4° to 149° F)
Output
0-10 V
0-20 mA
0-5 V
12.5 V, Maximum
1-5 V
2 to 10 V
28 mA - Maximum
4-20 mA
Ripple: < 20 mV [Current: 12.5 V, Maximum
Power
19.2-30 Vdc, 450 mW, Maximum
Resistance
Input Resistance (Current): 50 KiloOhms Approximately
Input Resistance (Voltage): 100 KiloOhms Approximately
Response Time
Step Response from 10 to 90%: 3.5 milliseconds
Span & Zero Adjustments
Span Adjustment: Potentiometer
Storage Temperature
-40° to 85° C (-40° to 185° F)
Temperature Coefficient
< 0.002%/K, Typical
< 0.01%/K, Maximum
Voltage
Test Voltage (Input/Output/Supply): 1.5 kV, 50 Hz, 1 Minute