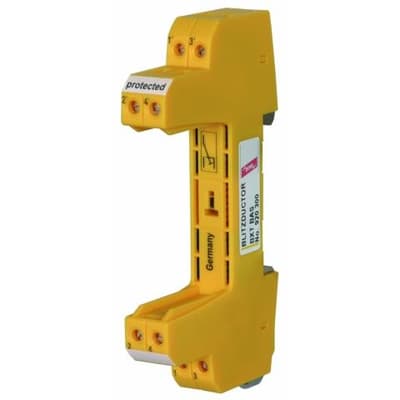 Images are representations only.
BXT BAS Four-Pole Feed-Through Terminal
Brand:
DEHN, Inc.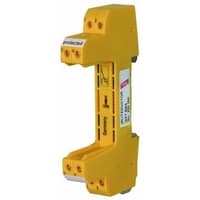 The BLITZDUCTOR XT base part is a very space-saving and universal four-pole feed-through terminal for the insertion of a protection module without signal interruption if the protection module is removed.

The snap-in mechanism at the supporting foot of the base part allows the protection module to be safely earthed via the DIN rail. 

Since no components of the protective circuit are situated in the base part, only the protection modules must be maintained.
Specifications
Approvals & Certifications
ATEX DEKRA 11-ATEX-0089 X: II 3 G Ex NA IIC T4 Gc
CSA
GOST
IECEx DEK 11.0032X: Ex NA IIC T4 Gc
UL
VDS
Electrical Connectors
Cross-sectional Area: Flexible (0.08 to 2.5 mm²)
Cross-sectional Area: Solid (0.08 to 4 mm²)
Mounting
For Mounting On, Earthing Via: 1.37" (35 mm) DIN Rails According to EN 60715
Operating Temperature
-40° to 80° C (-40° to 176° F)
Torque
Tightening Torque (Terminals): 0.4 Nm