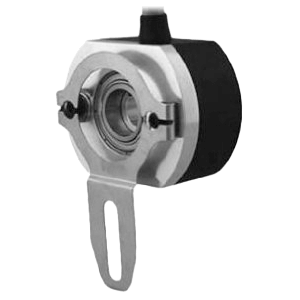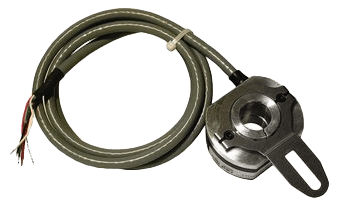 Images are representations only.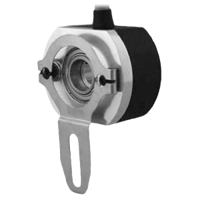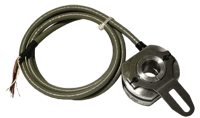 The Model ZPJ is a thru-bore encoder with a bore of 0.625" (15.875 mm). 

Additional mounting kits are available to adapt it to both standard and metric shaft sizes. 

This unit is ideal for applications requiring a miniature, high precision encoder, designed with all metal construction for years of trouble-free operation. 

The ZPJ encoder has a flexible arm mount and blind hollow shaft. 

It uses two set screws that are 90° apart to clamp the encoder's hub to the motor shaft. 

The NPN Open Collector outputs are each current limited to 20 mA. 

The outputs are standard quadrature with index, and are available in resolutions up to 2500 pulses per shaft revolution. 

The quadrature separation is typically 90 electrical degrees. 

Output A leads output B for clockwise rotation of the encoder shaft.
Specifications
Accuracy
Within 0.01° Mechanical from One Cycle to Any Other Cycle, or 0.6 Arc minutes
Approvals & Certifications
Noise Immunity: BS EN 61000-6-2, EN 50081-2, EN 61000-4-2, EN 61000-4-3, EN 61000-4-6, EN 50011
Electrical Connectors
36" (914.4 mm) Cable (Foil & Braid Shield, 24 AWG Conductors)
Humidity
98% Relative Humidity, Non-Condensing
Mounting
Flexible Arm 1.06" to 1.81" Radius Mounting
Operating Temperature
0° to 70° C (32° to 158° F)
Output
20 mA - Maximum
30 Vdc, Maximum
Output Format
NPN Open Collector Transistor
Storage Temperature
-40° to 100° C (-40° to 212° F)
Supply Voltage
4.75-28 Vdc, 100 mA - Maximum
Tolerance
Bore: -0.0000" / +0.0006"
User Shaft Tolerance (Axial Endplay): ± 0.030", Maximum
User Shaft Tolerance (Radial Runout): 0.007", Maximum