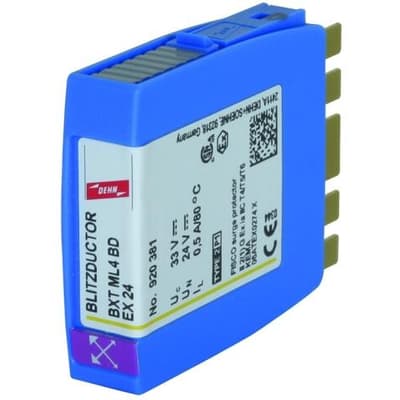 Images are representations only.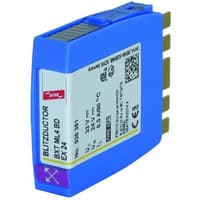 Space-saving surge arrester module with LifeCheck feature for protecting two pairs of intrinsically safe measuring circuits and bus systems, meets FISCO requirements. 

ATEX. Insulation strength >500 V line-earth. 

If LifeCheck detects thermal or electrical overload, the arrester has to be replaced. 

This status is indicated contactless by the DEHNrecord LC / SCM / MCM.
Features
For universal use, with LifeCheck monitoring function
Self-capacitance and self-inductance negligibly small
For installation in conformity with the lightning protection zone concept at the boundaries from 0B-2 and higher
Specifications
Approvals & Certifications
ATEX (KEMA 06-ATEX-0274 X: II 2 (1) G Ex Ia [ia Ga] IIC T4 to T6 Gb, II 2 G Ex Ib IIC T4 to T6 Gb)
CE
CSA & USA Hazloc (70000011: Class I Division 1, Class I, Zone 1 & Ex Ia [ia] IIC T4 to T6)
GOST
IECEx (DEK 11.0078X: Ex Ia [ia Ga] IIC T4 to T6 Gb, Ex Ib IIC T4 to T6 Gb)
Approvals & Certifications
IEC 61643-21, EN 61643-21, UL 497B
UP to SIL3
Capacitance
Capacitance Line-Line: ≤ 0.8 NF
Capacitance Line-PG: ≤ 16 PF
Current
C2 Nominal Discharge Current (8/20 µs) Per Line: 5 KA
C2 Total Nominal Discharge Current (8/20 µs): 20 KA
D1 Lightning Impulse Current (10/350 µs) Per Line: 1 KA
D1 Total Lightning Impulse Current (10/350 µs): 4 KA
Frequency
Cut-Off Frequency Line-Line: 7.7 MHz
Operating Temperature
-40° to 80° C (-40° to 176° F)
Resistance
Series Resistance Per Line: 1 ohm
Voltage
Nominal Voltage: 24 V
Voltage Protection Level Line-Line at 1 kV/µs C3 (Uₚ): ≤ 45 V
Voltage Protection Level Line-Line for Iₙ C2 (Uₚ): ≤ 52 V
Voltage Protection Level Line-Line for Iᵢₘₚ D1 (Uₚ): ≤ 50 V
Voltage Protection Level Line-PG at 1 kV/µs C3 (Uₚ): ≤ 1,100 V
Voltage Protection Level Line-PG for Iₙ C2 (Uₚ): ≤ 1,400 V
Voltage Protection Level Line-PG for Iᵢₘₚ D1 (Uₚ): ≤ 1,300 V