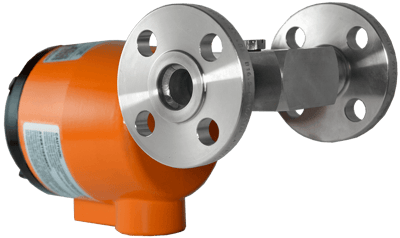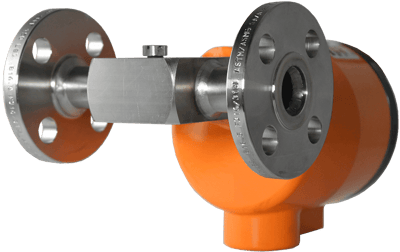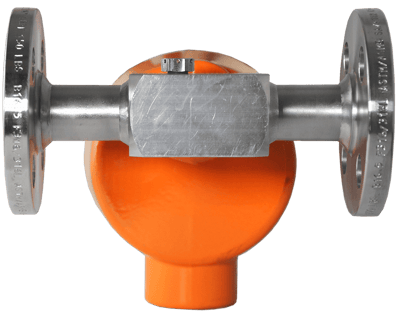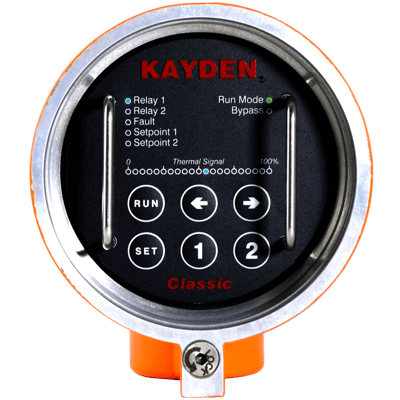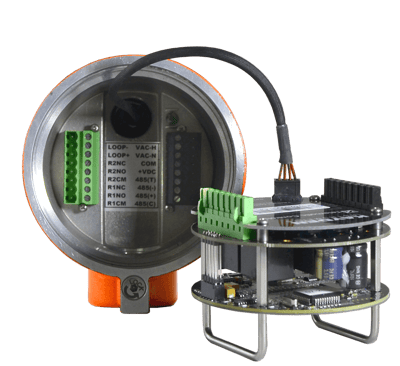 Images are representations only.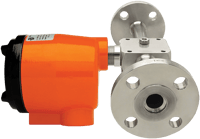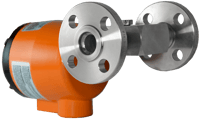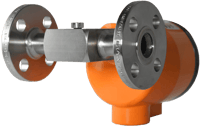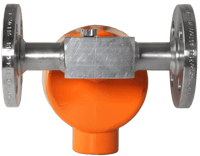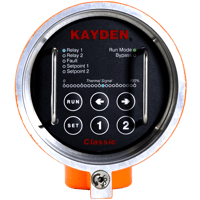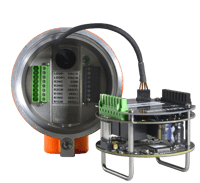 The Kayden CLASSIC 832 Flow Switch & Transmitter features a precision welded, highly accurate stainless steel sensor. Ideal for liquids, gases & slurries in a clean or dirty process.

The CLASSIC 832 is available with a Raised Face or RTJ Flange, in a wide range of flange sizes, ANSI ratings and assembly widths. All Kayden models feature a rugged flameproof enclosure with blind or lens covers available.

Process Connections


Raised Face or RTJ Flange

Adjustable Set Point Range

Sensor Assembly Body Width


Available in 1/2" (1 cm) Increments
Min. 7" to Max. 72" (18 cm to 182 cm). (Minimum width varies with Flange Size and Rating)

Input Power


12-24 Vdc & 115-230 Vac, 50-60 Hz

Operating Pressure (Maximum)


3480 psi, 24,000 kPa, 240 bar

Temperature Range (Sensor)


-45° to 200° C, -50° to 392° F

Local Enclosure


Aluminum Flameproof
1" Female NPT Conduit Connection
NEMA 4X, IP55 / IP67

Local Enclosure Cover


Blind or Glass Lens, Flameproof

Wetted Materials


316/316L Stainless Steel & with Nickel Braze

Outputs/Communications


Two Independent Relays (SPDT)
4-20 mA
Modbus

Approvals

Specifications
Accuracy
Flow Service: ± 1.0% of Set Point Velocity over Operating Range of ± 28° C (± 50° F)
Level Service: ± 0.64 cm (0.25")
Approvals & Certifications
CSA
CSA - Local (Sensor) Enclosure Flameproof: Class I, Division 1, Groups B, C, D, Ex D IIB + H2 AEx D IIB + H2 (Class I, Zone 1, Group IIB + H2) Temperature Code: T3 Enclosure Typical 4, IP55 Single Seal Approved Per ANSI/ISA 12.27.01-2003
CSA - Remote Electronics Enclosure - Optional Flameproof: Class I, Groups B, C, D, Ex D IIB + H2 AEx D IIB + H2 (Class I, Zone 1, Groups IIB + H2) Temperature Code: T3
FM
FM - Local (Sensor) Enclosure Flameproof: Class I, Division 1, Groups B, C, D Temperature Codes: T2D (Ta=75° C), T3 (Ta=65° C) Class I, Zone 1, AEx D IIB + H2 Enclosure Typical 4/IP55
FM - Remote Electronics Enclosure - Optional Flameproof: Class I, Division 1, Groups B, C, D Temperature Codes: T2D (Ta=75° C), T3 (Ta=65° C) Class I, Zone 1, AEx D IIB + H2 Enclosure Typical 4/IP55
Communication
Modbus RTU Communication-Alarms, Flow Status & Diagnostics
RS-485 Using Kayden's Remote Control & Monitoring Software (RCMS) or other Modbus Compatible Software
Cover - for Local Enclosure
Blind Cover - Flameproof
Glass Lens Cover - Flameproof
Electronics - Standard Features
*Configurable only from the Kayden RCM Software
100% Digital Design. Electronics are Environmentally Sealed
4-Adjustable Independent Switch Point Timers
Automated Redundant Self-Test Diagnostics
Display Panel Lock-Out*
Easy Setup: No Mechanical Jumpers or Trim Pots
Incrementally Adjustable Heater Power (5% Steps) with Automatic Over-Range Protection
Intelligent User Interface with Push-Button & Constant Display of Operation (Flow/Level)
Start-Up Bypass Timer
Temperature Compensation
Temperature Mode*: Process Temperature may be Displayed/Graphed in Flow/Level Mode
Enclosure Finish
Powder-Coated Polyester TGIC
Enclosure, Body Details
1" NPT Female Conduit Connection
Buna-N O-Ring on Cover
Enclosure, Body Material
Copper-Free Aluminum (Does Not Exceed 0.4% Copper)
Flange Material
316, 316L Stainless Steel
Flange Size - 1" (DN25)
1" (DN25) - 150#
1" (DN25) - 1500#
1" (DN25) - 300#
1" (DN25) - 600#
1" (DN25) - 900#
Flange Size - 10" (DN250)
10" (DN250) - 150#
10" (DN250) - 1500#
10" (DN250) - 300#
10" (DN250) - 600#
10" (DN250) - 900#
Flange Size - 1-1/2" (DN40)
1-1/2" (DN40) - 150#
1-1/2" (DN40) - 1500#
1-1/2" (DN40) - 300#
1-1/2" (DN40) - 600#
1-1/2" (DN40) - 900#
Flange Size - 2" (DN50)
2" (DN50) - 150#
2" (DN50) - 1500#
2" (DN50) - 300#
2" (DN50) - 600#
2" (DN50) - 900#
Flange Size - 3" (DN80)
3" (DN80) - 150#
3" (DN80) - 1500#
3" (DN80) - 300#
3" (DN80) - 600#
3" (DN80) - 900#
Flange Size - 3/4" (DN20)
3/4" (DN20) - 150#
3/4" (DN20) - 1500#
3/4" (DN20) - 300#
3/4" (DN20) - 600#
3/4" (DN20) - 900#
Flange Size - 4" (DN100)
4" (DN100) - 150#
4" (DN100) - 1500#
4" (DN100) - 300#
4" (DN100) - 600#
4" (DN100) - 900#
Flange Size - 5" (DN125)
5" (DN125) - 150#
5" (DN125) - 1500#
5" (DN125) - 300#
5" (DN125) - 600#
5" (DN125) - 900#
Flange Size - 6" (DN150)
6" (DN150) - 150#
6" (DN150) - 1500#
6" (DN150) - 300#
6" (DN150) - 600#
6" (DN150) - 900#
Flange Size - 8" (DN200)
8" (DN200) - 150#
8" (DN200) - 1500#
8" (DN200) - 300#
8" (DN200) - 600#
8" (DN200) - 900#
Flange Type
Raised Face (RF)
RTJ - Ring Typical Joint
Input Power
12-24 Vdc, 115-230 Vac, 50/60 Hz / Universal Power Input
Power Consumption: Maximum
Operating Pressure - Sensor
Operating Temperature - Electronics
-55° to 65° C (-67° to 149° F)
Operating Temperature - Sensor
-45° to 200° C (-50° to 392° F)
Output
4-20 mA (Thermal Signal, Scaleable)
Remote Control & Monitoring Software
Adjust Relay Modes
Adjust Set Points 1 & 2
Load or Save User Settings
Lock or Unlock the Display Panel to Protect the Settings
Many Other Adjustable Features
Modify Heater Settings to Optimize Response Time
Monitor Operating Status
Operated Via a Personal Computer Locally or from a Remote Control Center
Visualize the Actions of the Process Via the Graphical Display
Remote Electronics Enclosure & Cover
Blind Cover - Flameproof
Glass Lens Cover - Flameproof
Response Time
Approximately 0.5 to 30 seconds
Sensor Assembly Body Lengths
Custom Body Lengths: 7" to 72" (18 cm to 182 cm) in 1/2" (1 cm) Increments
Storage Temperature
Product Should Be Stored in a Clean & Dry Environment between -30° & 60° C (-22° & 140° F)
Switch Point Range
Gases: 0.6 to 20,000 cc/second, Standard Condition: 21° C (70° F) at 14.7 psi (1 Atm)
Hydrocarbon-based Liquids: 0.033 to 110 cc/second
Water-based Liquids: 0.015 to 50 cc/second
Switch Type
2 SPDT Sealed Relay Contacts Rated @ 4 Amps Resistive 230 Vac or 30 Vdc, Maximum
Wetted Materials
316, 316L Stainless Steel with Nickel Brazing
Flow

Pump Protection – Dry Alarm
Leak Detection
Flow Monitoring & Verification
Tank Overflow Protection
Flare Gas Monitoring
Monitoring Purge Air Flow
Lube Oil Systems
Vent Monitoring
Natural Gas to Boilers
Emergency Eye Wash & Shower Stations
Drain Line Flow
High Pressure Flows
Tanker Loading & Unloading
Relief Valve & Rupture Disk Flow Monitoring
Remote Indication of Flow via Analog Output & Digital Communications
Chemical Injection/Additive Flow Monitoring
Level

Storage Tanks
Oil Separators & Treaters – High, Low & Interface Level
Sumps – All Types of fluids ( Water, Oil, etc. )
Free Water Knock-out Tanks – High, Low and Interface Level
Leak Detection (Accumulation Reservoir)
Tank Overflow
Sampler Systems
Sand Separators
Media

Liquids, Air & Gases
Hazardous & General-Purpose Areas
Slurries
Corrosive Liquids