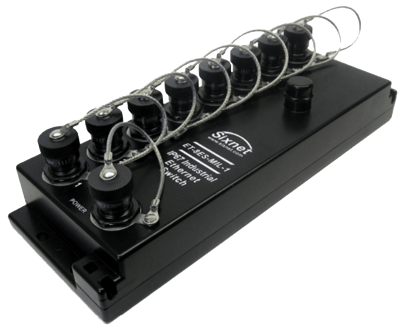 Images are representations only.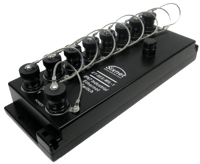 Sixnet's ET-8xS-MIL-1 is a fast (10/100) managed or unmanaged industrial Ethernet switch with military-style D38999 connectors. 

These high-performance switches offer an ideal commercial off-the shelf (COTS) military solution for battlefield communications, combat vehicles and avionics shipboard as well as other industrial applications that require rugged reliability in extreme environments.
Features
Ultra Rugged & Compact


Meets extreme military standards
Provides proven reliability under field conditions


Fully certified MIL-STD performance
-40° to 75° C (-40° to 167° F) operating temperature
Tough corrosion proof aluminum case
Conductive cooling-moving parts
Over 1,000,000 (MTBF) of trouble-free service

Industrial COTS Solution


Reduces time and cost for development and maintenance
Simplifies procurement


Pre-tested for vibration and harsh conditions
Ready to ship

Flexible Deployment Options


Reduces crew workload
Improves task performance


Direct-mounting — no need for additional enclosures and wiring
IP67 (NEMA 6) water-tight case enables mounting into a vehicle or an exposed wall in harsh applications
Low-profile chassis fits into tight spaces

Real-Time Ethernet Performance


Helps optimize vehicle networks
Protects mission critical communications


Fast wire-speed switching
Auto-speed/duplex, auto-crossover and auto-polarity
RSTP, SNMP, QoS/CoS, IGNR, VLAN and security options
Specifications
Applications
Aerospace
Industrial Outdoors
Marine & Maritime
Military In-Vehicle
Transportation
Approvals & Certifications
CSA C22.2/14, 213
EMC
EMI
IEEE 802.3, 802.3 u, 802.3x
RoHS
UL 508, 1604
Approvals & Certifications
MIL-STD-810F, 1257B, HNDBK-217F2, STD-38999, 461E (EMC)
Circuit Protection
Reverse Polarity Protection
Surge Protection: 100 V for 1 second
Communication
RS-232 Plug: D38999 / 26xA35PA
USB
Enclosure, Body Material
Tough Corrosion Proof Aluminum Case
Humidity
5 to 95% Relative Humidity, Non-Condensing
Input
10-30 Vdc (Continuous)
6 W (Estimated, Maximum
Isolation
Ethernet Isolation: 1,500 Vrms 1 Minute
Operating Temperature
-40° to 75° C (-40° to 167° F)
Power
250 V (50x for 100 μS)
Spike Protection: 5,000 W (10 x for 10 μS)
Transient Protection: 15,000 W
Shock
IEC 60068-2-27, 60068-2-27-32 (Freefall)
Storage Temperature
-40° to 85° C (-40° to 185° F)