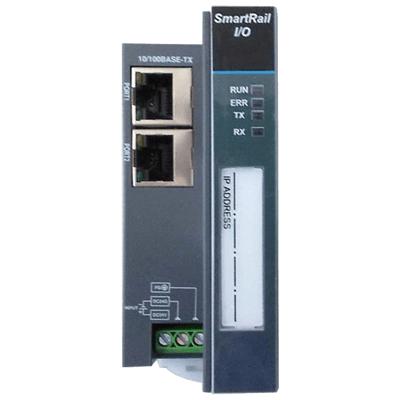 Images are representations only.
HE599ETX200 SmartRail I/O Ethernet Base
Brand:
Horner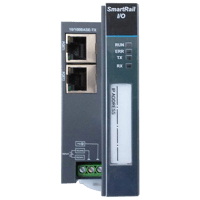 SmartRail I/O is a real-time, modular I/O system – expanding the application of the OCS family of all-in-one controllers. 

The SmartRail I/O Ethernet Base (ETX200) utilizes ethernet communications for the I/O connection with the OCS. 

The high-bandwidth, high-speed nature of Ethernet allows a significant amount of I/O to be added while maintaining fast I/O updates. 

Any OCS Controller with a built-in 10/100 Ethernet port can utilize ETX200 Base units. 

Each Base can support up to 8 SmartRail I/O modules – addressed with up to 256 digital I/O and 32 Analog I/O per base. 

The number of bases can expand literally to the limits of the OCS I/O reference table. 

These limits are currently set at 2048 digital in, 2048 digital out, 512 Analog in, and 512 Analog out. 

The ETX200 features a built-in unmanaged Ethernet switch for convenience of wiring and system expansion. 

SmartRail I/O is not complex to configure – it utilizes Cscape (9.1 or later) in an easy, straight forward process.
Specifications
Approvals & Certifications
CE
UL Class I, Division 2, Groups A, B, C, D
Connectors
2 Ports (AutoMDIX)
RJ45 (8P8C)
Humidity
5 to 95% - Non-Condensing
Length
Wire Stripping Length: 0.28" (7 mm)
Mounting
DIN Rail
M3 Screw Typical, Fixed
Operating Temperature
-5° to 50° C (23° to 122° F)
Power
Primary Power Range: 19.2-28.8 Vdc
Power Requirement
Steady State: 550 mA at 24 Vdc
Power Supply
Power Supplied for I/O Modules: 1,500 mA at 5 Vdc, Maximum
Storage Temperature
-40° to 75° C (-40° to 167° F)
Version / Leadwires
Recommended Wire Size: 14 to 18 AWG (Copper)