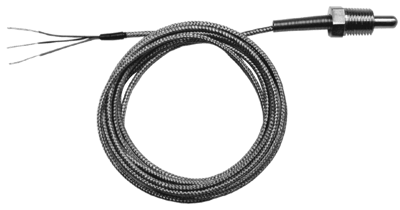 Images are representations only.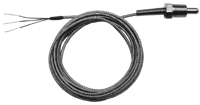 The Pipe Plug RTD Sensor is a unit specially designed for use in pressure vessel applications. 

Its 3-Wire construction provides connectivity to most hand held instruments. 

The unit features a high accuracy 100 Ω Class A DIN platinum element and steel braided, PFA insulated wires for the necessary durability and protection demanded by harsher environments.
Features
Ideal for use in pressure vessel applications, psi: 2,500 (kPa: 17,200, bar: 172) maximum
0.24" (6 mm) diameter, stainless steel probe
Steel braided, PFA insulated lead wires
High accuracy 100 ohms Class A DIN thin film platinum element (Alpha = 0.00385)
Strain relief spring
Specifications
Cable Length
20 feet (6 meters)
6 feet (1.82 meters)
Diameter
Sensing Element End Diameter: 0.24" (6 mm)
Materials of Construction
Overbraid: Stainless Steel
Operating Pressure
Pressure Vessel - psi: 2,500 (kPa: 17,200, bar: 172), Maximum
RTD Type
DIN Thin-Film Pt100 Class A, 3-Wire (Alpha: 0.00385)