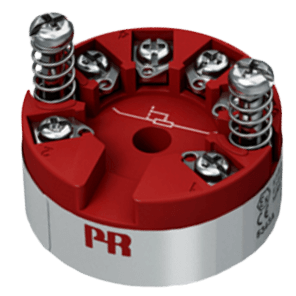 Images are representations only.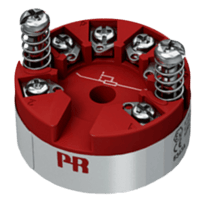 Potentiometer or Ohmic input
Programmable sensor error value
High measurement accuracy
Unique process calibration function
Programmable via standard PC
Features
Within a few seconds the user can program PR5343B to measure within the defined Ohmic values.
Continuous check of vital stored data for safety reasons.
The transmitter is protected against polarity reversal.
PR5343B is configured to the current task by way of a PC, the PReset software and the communications interface Loop Link.
The PRelevel configuration tool included in the PReset software has been developed specifically for the configuration of level applications. Among other things, it contains a function for "on line" measurement of input span as well as a linearization function for volume linear output from horizontal cylindrical tanks.
Specifications
Accuracy
Better than 0.1% of Selected Range
Approvals & Certifications
ATEX 2014/34/EU KEMA 03-ATEX-1538
CE
DNV Marine Standard F. Certificate No. 2.4
EAC Ex TR-CU 012 / 2011 RU C-DK. GB08.V.00410
EAC TR CU 020/2011
EMC 2014/30/EU
Ex
FM 2D5A7
GL V1-7-2
IECEx DEK 13.0036X
INMETRO DEKRA 13.0002 X
Dimensions
1.73" (Diameter) x 0.80" (44 x 20.2 mm)
Humidity
< 95% Relative Humidity, Non-Condensing
Output
16 mA - Minimum Current Signal Range
23 mA - NAMUR NE 43 Upscale
3.5 mA - NAMUR NE 43 Downscale
4-20 mA
Output Noise
Minimum 60 dB - Signal to Noise Ratio
Power Supply Effect
± 0.005% of Span Per Volt
Resistance
0 to 100 KiloOhms / 1 KiloOhms - Linear Resistance Measurement Range (Span)
Maximum
Resolution
16-bit - Signal Dynamics, Output
19-bit - Signal Dynamics, Input
Stability
≤ 0.01% of Span at 100 ohms - Load
Temperature Range
20° to 28° C (68° to 82.4° F) - Calibration Temperature
-40° to 85° C (-40° to 185° F)
Torque
3.54 In/Lbs (0.4 Nm) - Screw Terminal Torque
Update Time
135 milliseconds
5 minutes - Warm-Up Time
Vibration
± 1.6 mm at 2 to 25 Hz as Per IEC 60068-2-6 : 2007
± 4 G at 25 to 100 Hz as Per IEC 60068-2-6 : 2007
Conversion of resistance variation to standard analog current signals, e.g. from Ohmic level sensors or valve positions.
User-defined linearization function can be activated.