Images are representations only.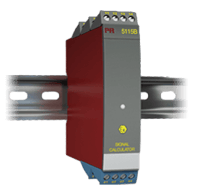 Redundancy measurement with 2 input signals
Signal calculator with the four arithmetical operations
Duplication of the input signal
Input for RTD, Ohm, TC, mV, mA, and V
Universal supply by AC or DC
Features
Within a few seconds the user can program PR5115B to a selected application using the configuration program PReset.
A green front LED indicates normal operation, sensor error on each sensor, and functional error.
5-port 3.75 kVAC galvanic isolation.
Specifications
Approvals & Certifications
ATEX 2014/34/EU Demko 00-ATEX-128567, II (1) GD [EEx Ia] IIC
DNV Marine Standard F. Certificate No. 2.4
EAC Ex TR-CU 012 / 2011 RU C-DK.GB08.V.00410
EAC TR CU 020/2011
EMC 2014/30/EU
LVD 2014/35/EU
Calibration
20° to 28° C (68° to 82° F)
Humidity
< 95% Relative Humidity, Non-Condensing
Response Time
250 milliseconds to 60 seconds mA/V Input (Programmable)
400 milliseconds to 60 seconds (0 to 90%, 100 to 10%)
Supply Voltage
19.2-300 Vdc
21.6-253 Vac
50/60 Hz
Temperature Range
-20° to 60° C (-4° to 140° F)
Redundancy measurement of temperature by means of two sensors, where the secondary sensor takes over the measurement when a sensor error occurs on the primary sensor.
Duplication of the input signal, e.g. from a temperature sensor or an analog process signal to two separate analog outputs.
Signal calculator with four arithmetical operations: Addition, subtraction, multiplication and division.
Example: Differential measurement:
(Input 1 * K1) - (Input 2 * K2) + K4
Example: Average measurement:
(Input 1 * 0.5) + (Input 2 * 0.5) + K4
Example: Different functions on the outputs:
Output 1 = input 1 - input 2, and Output 2 = input 1 + input 2
I.S. safety barrier and power supply for 2-wire transmitters.