Images are representations only.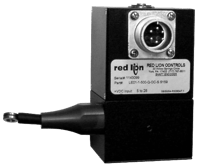 The Linear Cable Encoder can provide an accurate, yet low cost solution for linear measurement applications. 

Common applications include robotics, extrusion presses, valve positioning, textile machinery, and gate control positioning, just to name a few. 

The LE has some unique advantages over other sensing solutions. 

Using a stainless steel cable, perfect parallel alignment is no longer required and with a 50 inch cable reach, it can easily be mounted away from harsh environments. 

The LE is available in a quadrature output, allowing the sensor to operate in positioning applications.
Features
50 or 500 pulses per inch
Stainless steel cable
0 to 50 inches of cable measurement
Specifications
Cable Material
0.034" Nylon Coated Stainless Steel Rope
Electrical Connectors
10 to 50 feet, 6-Pin 4-Wire Cable/Connector
Mating 6-Pin MS Connector
Input
4.75-28 Vdc
80 mA - Maximum
Length
Full Stroke Length: 50" (1,270 mm)
Operating Temperature
0° to 85° C (32° to 185° F)
Output
NPN Open Collector, 250 mA - Maximum
Resolution
Linear Resolution: up to 500 Cycles Per inch [0.002" (0.0508 mm) Per Cycle]
Response Time
Rise Time: < 1 microsecond
Voltage
Ripple: 100 mV peak-to-peak at 0 to 100 kHz