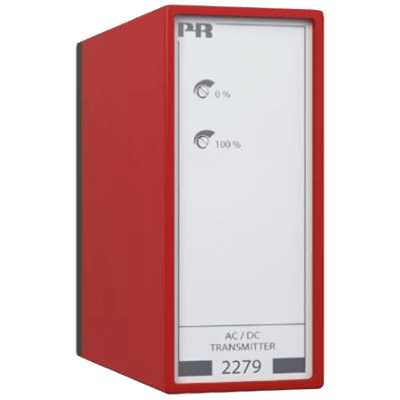 Images are representations only.
Input galvanically separated from output and supply
AC current measurement
AC voltage measurement
Current and voltage output
24 VDC supply or universally supplied
Applicable in PELV/SELV circuits
Features
±20% adjustment of the 0 and the 100% measurement rangeis possible at the front panel.
Input and output ranges are programmable by use of internalDIP-switches
Analog signal conditioning with microprocessor based gainand zero offset.
Signals in the ranges 0.5...250 VRMS sinusoidal voltage canbe connected directly to the input, ranges are programmedvia DIP-switches and jumpers.
Analog standard current output of 0/4...20 mA or standardvoltages of 0...1 or 0...10 VDC ranges are programmed viaDIP-switches and jumpers.
Special currents and voltages within the signal range.
Signal reversal e.g. 20...4 mA is possible in a special version.
Universally supplied units have a 3-port galvanic separationbetween input, supply, and output.
Mounting for a standard 11-pole socket which can be adaptedfor DIN rail or plate use with PR's 7023 adaptor and 7024mounting keying.
Specifications
Approvals & Certifications
EAC TR CU 020/2011
EMC 2014/30/EU
LVD 2014/35/EU
Calibration
20° to 28° C (68° to 82° F)
Humidity
< 95% Relative Humidity, Non-Condensing
Output
0-20 mA Signal Range
0-5 mA Signal Range
Supply Voltage
19.2-28.8 Vdc
19.2-300 Vdc Universal
21.6-235 Vac Universal
50/60 Hz Universal
Temperature Range
-20° to 60° C (-4° to 140° F)
AC current measurement e.g. in connection with a current transformer or a current clamp.
Direct AC voltage measurement.