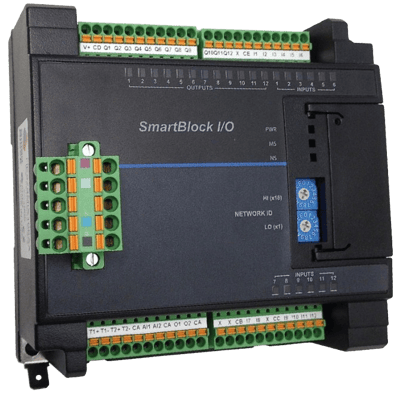 Images are representations only.
HE579ADC570/970 Analog Input Module
Brand:
Horner
SmartBlock I/O is complementary to SmartStix I/O, providing Analog and specialty modules for CsCAN. 

SmartBlock is compatible with X-series OCS/RCS products (XLe, XLt, XL6, NX, QX, RX, RCX) and includes a 5-pin double CsCAN plug and Removable Field Wiring Terminals.

HE579ADC5706:

Analog inputs (0-10 V, 0-5 V, 0-20 mA, 4-20 mA, and 10K Thermistor)
16-bit resolution with channel-by-channel input selection
HE579ADC97012:

Analog inputs (0-10 V, 0 -5 V, 0-20 mA, 4-20 mA, and 10K Thermistor)
16-bit resolution with channel-by-channel input selection
Specifications
Channels
12 Input Points (ADC970)
6 Input Points (ADC570)
Conversion Time
10 milliseconds for All Channels
Electromagnetic Rating
Radiated Electromagnetic Field: 27 to 500 MHz, 10 V/m
Humidity
5 to 95% - Non-Condensing
Input
10 Vdc
20 mA DC
4-20 mA DC
5 Vdc
Operating Temperature
0° to 55° C (32° to 131° F)
Power Requirement
Inrush: 8 A at 24 Vdc for 5 milliseconds
Steady State: 1.8 W (75 mA at 24 Vdc)
Storage Temperature
-25° to 70° C (-13° to 158° F)