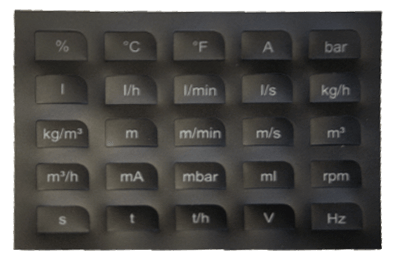 Images are representations only.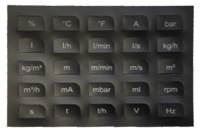 For displays in the 5700 series
25 different units
Features
High quality Autotex polyester (PET) film.
Resistant to: Alcohols, dilute acids, dilute alkalis, esters, hydrocarbons, ketones and household cleaning agent.
Each unit label measures 7 x 12 mm.
Units: %, °C, °F, A, bar, l, l/h, l/min, l/s, kg/h, kg/m3, m, m/min, m/s, m3, m3/h, mA, mbar, ml, rpm, s, t, t/h, V, Hz.
Color: Black with white text.
Specifications
Applications
Adhesive Label with Engineering Units for Displays in the 5700 Series
Dimensions
0.28" x 0.47" (7 x 12 mm) - Unit Label Size
Enclosure, Body Material
High Quality Autotex Polyester (PET) Film
Adhesive label with engineering units for displays in the 5700 series.