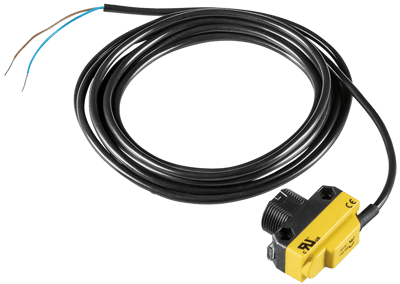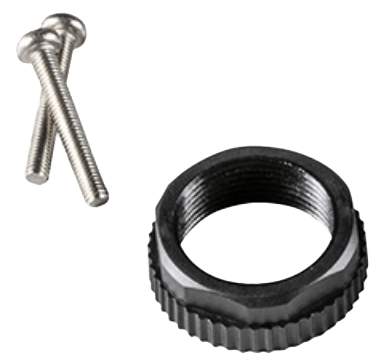 Images are representations only.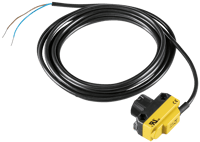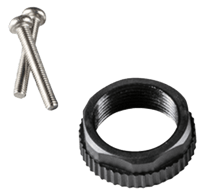 The Model RRDC2 is a miniature, DC powered, retroreflective photoelectric sensor. 

The "visible" LED light beam allows for easy alignment and is modulated, to provide immunity to ambient light. 

The small beam size makes it a good choice for detecting relatively small objects. 

In operation, the visible LED light beam is directed at a retro reflective target. 

An object breaking this beam will trigger the output.
Features
Easily fits most any mounting situations
Exceptional optical performance
10-30 Vdc operation with reverse polarity protection
Display operating status LEDs are visible from 360°
Rugged sealed housing, protected circuitry
Less than 1 Milliseconds output response for excellent sensing repeatability
Specifications
Approvals & Certifications
CE
IEC
UL (C,US) File #E71083
Electrical Connectors
6.5 feet (2 meters) 4-Wire PVC Cable
Humidity
90% Relative Humidity at 50° C (122° F), Non-Condensing
Mounting
Right-Angle & Side-Mount Mounting Bracket
Operating Temperature
-20° to 70° C (-4° to 158° F)
Output
Off-State Leakage Current: < 50 μA at 30 Vdc
On-State Saturation Voltage: < 1 V at 10 mA
On-State Saturation Voltage: < 1.5 V at 100 mA
Rating: 100 mA - Maximum
Response Time
Difuse & Retroreflective Mode: 600 µs (On/Off)
Opposed Mode: 375 µs (OFF)
Opposed Mode: 750 µs (ON)
Time Constant
Diffuse & Retroreflective Mode: 150 µs
Opposed Mode: 100 µs